PEACEKEEPER CIRCLES
Building school wide Climate & Culture of Caring & Compassion
by teaching social emotional intelligence and life skills

Learn More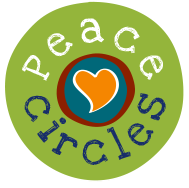 PEACEKEEPER CIRCLES
Building school wide Climate & Culture of Caring & Compassion
by teaching social emotional intelligence and life skills


Student driven Conflict Resolution
Classroom and school wide Community Building
Awareness of respectful relationship interactions and interpersonal affect
Preventative Restorative Justice Practice
Classroom Management tool
"I feel that by doing Peacekeeper in my room that it helps to build community within my classroom. I benefit from that all year long."

Becca Kates
1st Grade Teacher
Peacekeeper skills and language help:

Fortify student autonomy:
Empower children to resolve their own conflicts-less referrals
Engender respect across race, gender and ability:
Educate children to respect and communicate with everyone
Reduce bullying behaviors:
Compassionate communication taught in schools, builds a healthier school-wide climate and culture
Teachers and students listen to one another:
Become more understanding to others situations and tend to care and be responsive to needs.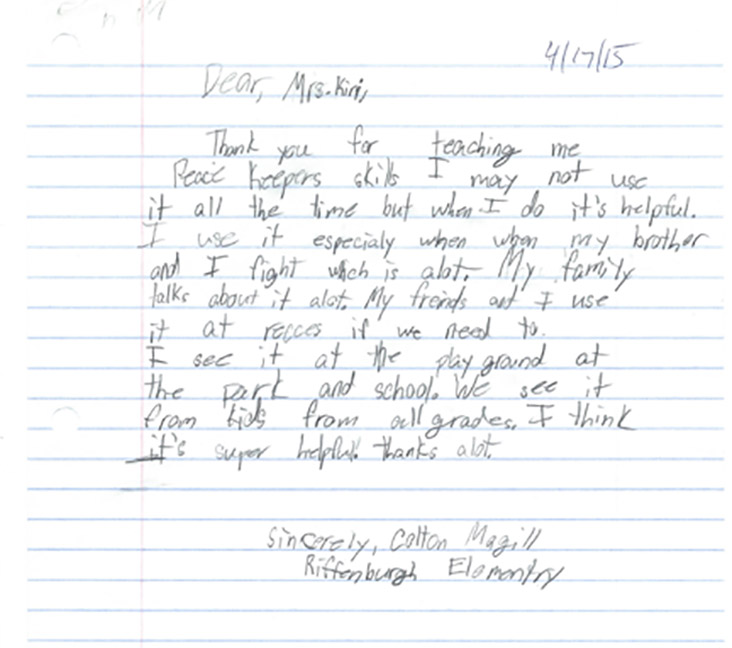 Research shows that when basic emotional needs are met, classrooms are more productive and the learning environment is enhanced.
A Paradigm Shift
Moving away from Punitive Discipline to Restorative Practice
Explore More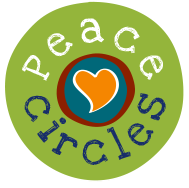 A Paradigm Shift
Schools are moving away from punitive discipline toward Preventive Restorative Justice models. PeaceKeeper Circles are a perfect experiential companion to other behavior curriculum.
Successful "Preventative" Restorative Practices in schools offer:

Paradigm shift-from: punitive discipline (punishment) to restorative practices – (healing the harm)
Community building- Sense of belonging
Skills for life - Compassionate communication
Conflict resolution tools and language
Especially when there is :

Whole school-buy in and fidelity to the practices
Willingness to take time to" Listen to the Children"
DEFINITION OF DISCIPLINE

LATIN derivative: Instruction, to learn

WESTERN DEFINITION:
Punishment, control gained by enforcing obedience (RULES broken)

EASTERN PHILOSOPHY:
Spiritual maturity, refining of the intellect (Person)

NEW DEFINITION:
Being aware of personal actions and taking responsibility for how we affect others in alignment to the present situation
Restorative Practices involve more than conflict resolution, making amends, and healing harm. R.P. encompasses a new paradigm, which requires deliberate actions to build respectful relationships and results in the creation of a compassionate, caring, cohesive community. Classrooms are an ideal place to develop relationship-building skills with people from differing backgrounds and perspectives.
5 R's of Restorative practices:
Relationship-caring, compassion and understanding
Respect-no interrupting or shaming, inclusion, collaborative
Responsibility-ownership of harm- future behavior
Repair-appropriate amends and solutions
Reintegration-build trust and safety and community

(Credit to: Beverley Title of: ReSolutionaries )